The U.S. Department of Housing and Urban Development (HUD) refers to the group of service providers involved in the decision-making processes for preventing and ending homelessness as the ''Continuum of Care.''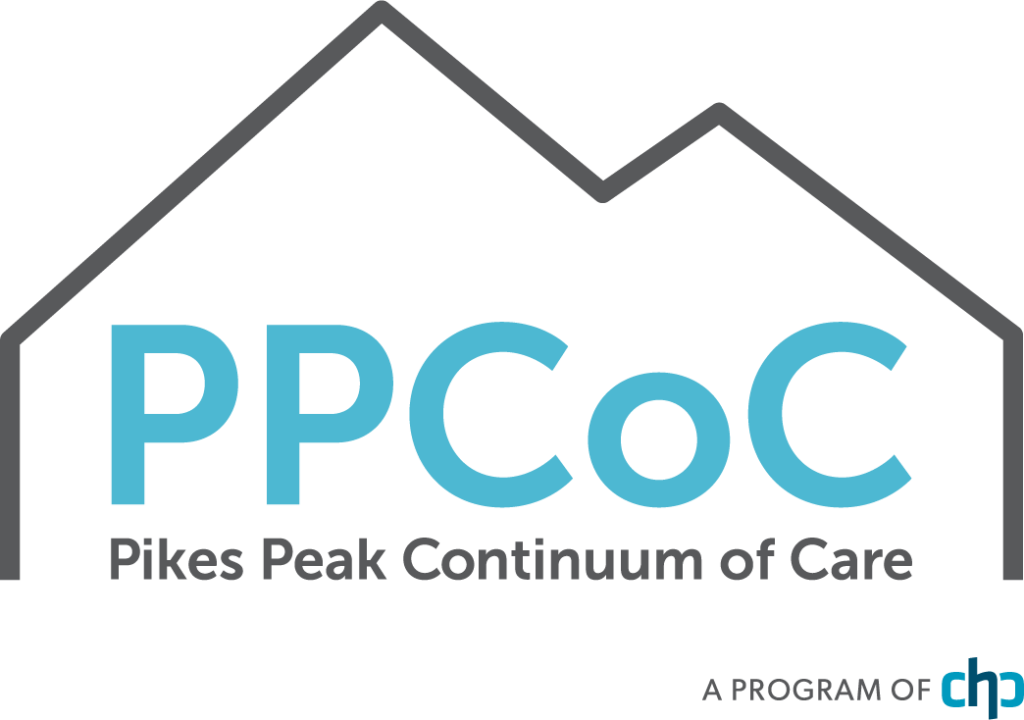 A Continuum of Care (CoC) helps communities plan for and provide a full range of emergency, transitional, and permanent housing and other services to address the needs of persons experiencing homelessness. The Pikes Peak Continuum of Care (PPCoC) is made up of service providers, advocates, local government officials, and citizens who work to eliminate homelessness in El Paso County, Colorado. The PPCoC is governed by a Board elected by the general members of the PPCoC. Community Health Partnership serves as the lead agency for the PPCoC and assists the PPCoC with:
The Pikes Peak Continuum of Care exists to end homelessness in the Pikes Peak Region.
To make homelessness brief, rare, and nonrecurring.
Anyone who is interested in ending homelessness in El Paso County, including representatives from nonprofit homeless assistance providers, persons who have experienced homelessness, domestic violence survivor service providers, faith-based organizations, government entities, businesses, advocates, mental health agencies, hospitals, veteran organizations, school districts and more.
Can more than one representative from my organization apply for membership?
Absolutely. It's a good idea for each organization to appoint one person to serve as the primary liaison to the PPCoC. This person should ensure that trainings and bi-annual member meetings are attended, and inform the organization's leadership of matters related to the PPCoC. Voting is limited to one designee per member organization. New members are invited to join on an ongoing basis.
What are the benefits of membership?
In addition to the opportunity to formally be part of efforts to end homelessness in El Paso County, PPCoC members may:
some of the membership responsibilities don't apply to me/my agency
PPCoC members represent a variety of groups, including groups that are not CoC-funded and/or do not provide direct services to persons experiencing homelessness. Participation in HMIS and CE are required for CoC-funded programs. For non-CoC funded members, the commitment is to collectively support these CoC efforts.
PPCoC Governing Board Members
Alison Gerbig, MSW, Program Manager Homes for All Veterans SSVF, Rocky Mountain Human Services
Andy Barton, President & CEO, Catholic Charities
Anne Beer, Director of Health Equity, Peak Vista Community Health Centers
Anne Markley, CEO, TESSA

Christopher Garvin

, Deputy Executive Director, El Paso County Department of Human Services
Crystal Karr*, Homeless Prevention and Response Coordinator, City of Colorado Springs
Haley Chapin, Executive Director, Tri-Lakes Cares

Jansen Howard, Street Outreach Program Manager, Homeward Pikes Peak


Karla Colonnieves*,

Homeless Programs Specialist, State Housing Vouchers, Office of Homeless Initiatives
Kat Lilley-Blair

, Office Manager, NAMI

Kayla Rockhold

, LCSW, Social Worker, Pikes Peak Library District

Kristy Milligan, CEO, Westside Cares

Michael Malone, Regional Director, Weidner Apartments Homes

Paul Spencer

*

, Deputy Director, Colorado Springs Housing Authority

Randi Davis*, Housing Analyst, El Paso County Economic Development
Stephanie Johnson, Associate Professor, College of Education, University of the Southwest

Terry Anderson, Chief Operating Officer, Springs Rescue Mission
Velda Baker, Faith Community Nurse, Penrose-St. Francis Hospital
        * Indicates Ex-Officio Status
PPCoC Governance Documents
Pikes Peak Strategic Plan
Pikes Peak Standards of Care
PPCoC Board Meeting Minutes - last 6 meetings
Bi-Annual Membership Meetings
Complete the form to apply to become a member of the PPCoC.