CHP exists to improve the health of the Pikes Peak region. By 2028 CHP will pioneer a process of collaborative leadership that results in measurable improvement in health outcomes.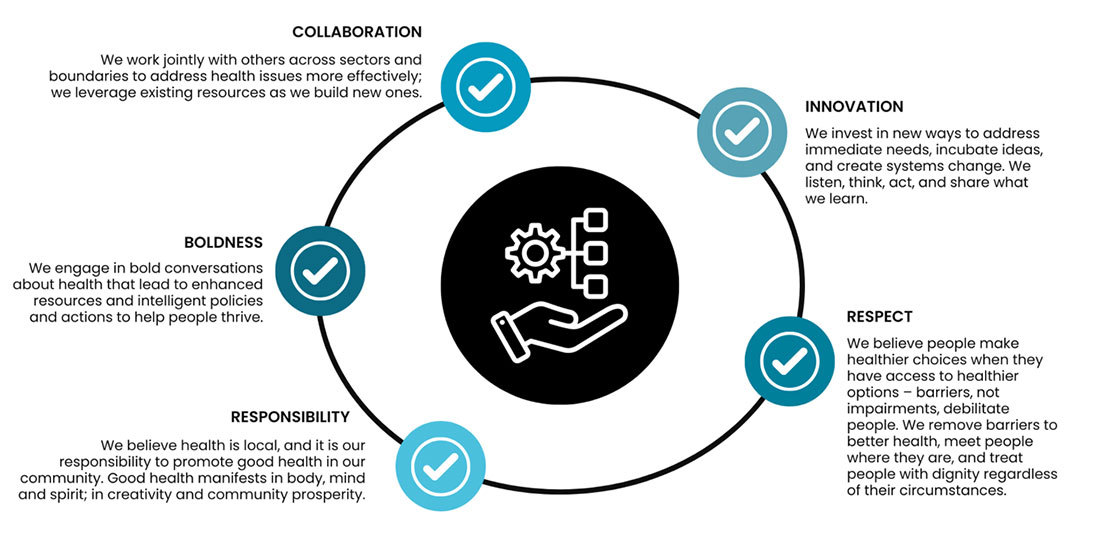 We work jointly with others across sectors and boundaries to address health issues more effectively; we leverage existing resources as we build new ones.
We invest in new ways to address immediate needs, incubate ideas, and create systems change. We listen, think, act, and share what we learn.
We engage in bold conversations about health that lead to enhanced resources and intelligent policies and actions to help people thrive.
We believe people make healthier choices when they have access to healthier options – barriers, not impairments, debilitate people. We remove barriers to better health, meet people where they are, and treat people with dignity regardless of their circumstances.
We believe health is local, and it is our responsibility to promote good health in our community. Good health manifests in body, mind and spirit; in creativity and community prosperity.
Transparency in Coverage (TIC) regulations require health insurers and group health plans to create machine readable files (MRFs) that contain the negotiated rates for in-network providers and allowed amounts derived from historical claims for out-of-network providers and make those files publicly available. Employers with non-grandfathered group health plans are required to make publicly available two machine-readable files with in-network and out-of-network cost information. Employees can find these files using CHP's Employee Identification Number (EIN) at: https://www.anthem.com/machine-readable-file/search.